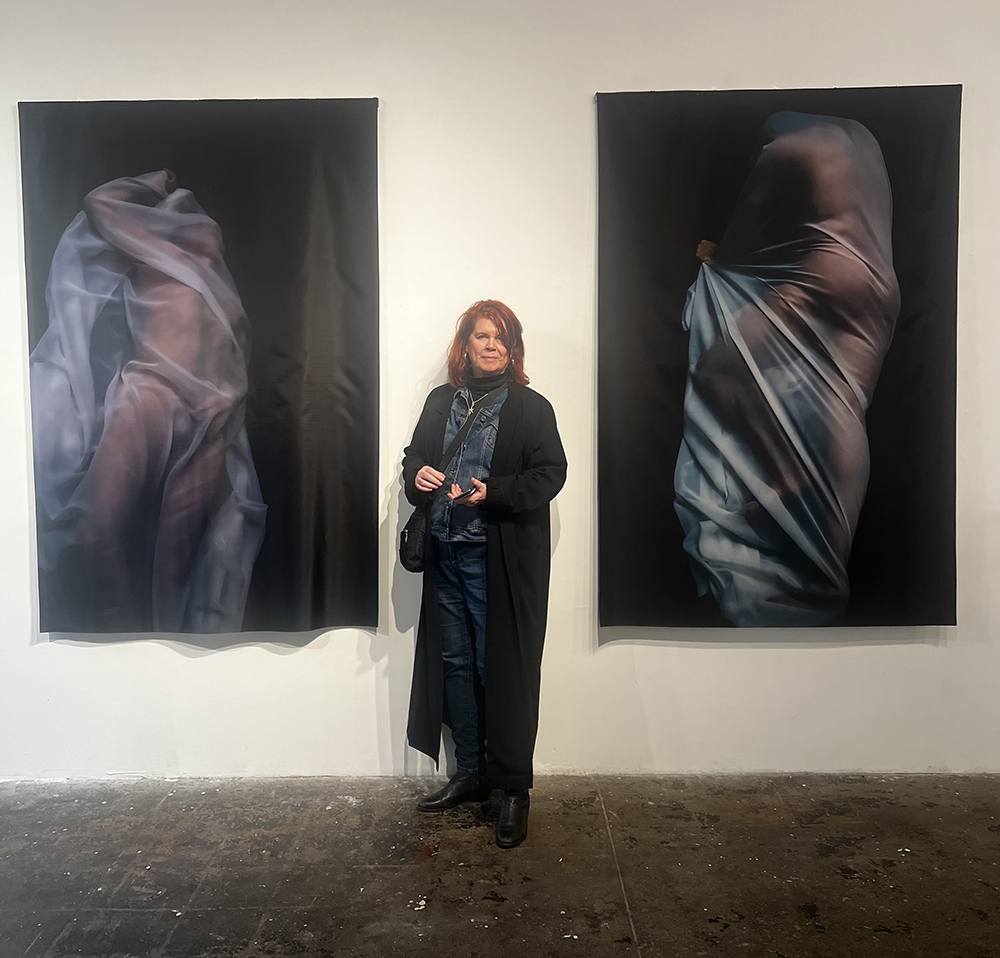 Ann-Marie Stillion, artist, at her exhibit, "Bound" at CORE Gallery on April 6 at Pioneer Square Art Walk reception. (Photo by Angela Ena)
FOR IMMEDIATE RELEASE, Seattle, WA (April 11, 2023) – CORE Gallery is proud to present Bound, a solo exhibition from March 29 – April 29 by CORE artist Ann-Marie Stillion. The exhibition includes a conversation series, "Challenging the Male Nude Stigma". Part 2 in the series will be held Saturday, April 22 from 3-5 pm at CORE Gallery. Award-winning writer Beverly Aarons, founder of Artists Up Close, will interview Stillion and facilitate a group discussion with attendees.  The event is free and open to the public.
Part 1 of the discussion series was so popular that many attendees demanded another event.  Here's what attendees had to say:
"The event exceeded my expectations. I'm leaving inspired and informed. Beautiful and thought-provoking! The conversation included so many wise and diverse voices."
"Beyond expectations. Philosophical, educational, entertaining! What I liked most about the event were the images and when the men participated in the discussion."
Attendees are encouraged to come ready to engage and discuss why men's bodies are under wraps and what impact this has on society.
Tickets are free but seating is limited. Please visit https://www.eventbrite.com/e/photographer-ann-marie-stillion-challenges-male-nudity-stigma-part-2-tickets-615138384467 for more information and to reserve your seat. Press may contact studio@arttrek.com for a free entry.
Stillion's new photography works are printed on large panels of silk and smaller, aluminum surfaces. The silk works are hung on invisible acrylic frames and come alive as they appear to float and move. The smaller works on aluminum hold enigmatic visual messaging on the subject of bodies struggling to be free of society's constraints.
"When I started photographing the nude figure in 2013 there was little contemporary art showcasing nudity but I was not prepared for how relentlessly we have turned our backs on our own bodies, especially images of men. Women's bodies are uncovered everywhere but when we see men we rush to cover them up, make a joke or, worse, turn away calling it porn or caging it as merely "for homosexual" viewing," Stillion points out.
"I discovered that challenging the idealized notion of the male hero in particular – armored and invincible – and even suggesting the importance of vulnerability is a crack in the armor that many people are not prepared to confront. But I also realized just how much my work was impacting the community when one woman said to me after viewing my work 'It's good to see men, it's hard to see men, it's hard for men to see themselves.' This is why I do what I do."
CORE Gallery, located at 117 Prefontaine Place S, Seattle, WA 98116. The exhibition will be on view Wednesday through Saturday until April 29, 2023, Wed-Sat, noon to 6 pm. Visit www.coregallery.org.